Leuven, Belgium
"Residents like the electric Glutton® because they can't hear it going."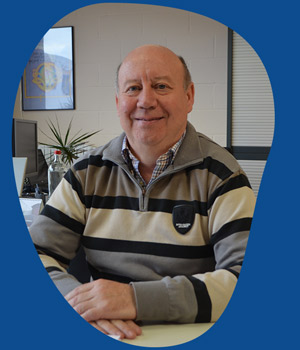 Mr. STROOBANTS
Danny Stroobants - City Cleansing Manager of Leuven, Belgium
About :
FACTS AND FIGURES
100,000 residents
50,000 university students
155 nationalities
182 restaurants and 240 bars
Voted the second cleanest city in Flanders!
Interview
Can you tell us about your department?
Altogether, we have a workforce of 130. We collect Leuven's household waste, from the city centre and the surrounding area. To keep the city clean, our sweepers use Glutton® machines to pick up almost 140 tonnes of litter. That's a lot. To help us achieve our targets we have a garage in the city centre with a team of about ten technicians. We carry out maintenance on most vehicles ourselves. We are also responsible for snow clearance and gritting in Leuven. That's an outline of what our department does.
What are your main challenges and aims in terms of urban cleaning?
Leuven is a city of more than 100,000, with an extra 50,000 or so students. All these people generate a lot of waste. And yet Leuven is a very clean place. Every two years, an independent opinion research company surveys the residents. The researchers also visit in person. I've been here for 15 years and we've been voted the third, then the fourth, and now the second cleanest city in Flanders. We also receive very high satisfaction scores from the residents. My main aim is to keep the image of Leuven as a clean city alive in people's minds. The administration gives us the resource we need: staff as well as a budget to buy equipment. Working with the work supervisors and team leaders, it's my job to ensure that our staff have the right equipment to do the best job they can. Being recognised by outsiders as the second cleanest city is obviously great, but it also motivates us to keep up the momentum. And we're doing quite well at the moment. We established a sweeper service in 1996. The number of people working for the city's cleaning service has steadily increased. The city cleansing section is now the biggest part of our department. That means we can keep Leuven in good shape and we managed to win the title of second cleanest city in Flanders.
When did you discover the Glutton®?
I got to know Glutton® in 2001 and we purchased our first Glutton® machine in 2002. It was a major investment at the time, and we were determined to ensure that the machine actually delivered the promised results. Once we started using it, it quickly became an indispensable aid. How? There was a steady increase in the number of sectors and the number of streets our sweepers could cover every day. We were able to extend our reach to the major roads and the Leuven ring road. We managed to cover a wider area with the same number of workers. Our experience was so positive we decided to buy a new Glutton® every two years, then two new Glutton® machines every year. We initially had 24 sweepers – eight working with the Glutton® and 16 with a cart. The ratio today is 50:50. It's the right balance: 12 with a Glutton® and 12 with a cart. At present we have 14 Glutton® machines in service so that if maintenance is needed, there will always be 12 in working order.
Can you tell us about your first electric machine?
We purchased our first electric machine in 2009. This marked an important change. The electric Glutton® was in many ways a clear break from the Glutton® with petrol engine. Maintenance became much easier. That brought down maintenance costs. Noise levels also came down. That's good for the user as well as the environment. Our staff work on Saturdays and Sundays too. They start at six in the morning. Because of the petrol engine we used to receive lots of complaints about the noise. The electric motor now means people can enjoy their lie in. So the electric Glutton® represents a major improvement for us. This year we're replacing the last two petrol machines, making a total of 14 electric Glutton® machines.
Do you think Glutton® is a good solution for users and for the city's residents?
Apart from the fact that a Glutton® lets you cover several streets in a day, it also has the benefit – for the user as well as the residents – of being silent. And unlike the old models, the Glutton® does not emit any exhaust fumes. That's good for the environment, for the user and for the residents. Residents like the electric Glutton® because they can't hear it going by any more. They don't see the Glutton® as an urban waste vacuum cleaner but as a large version of a normal vacuum cleaner. They also like that it collects everything, even dust. This isn't its main purpose, but the Glutton® is an "all-in-one". The Glutton® also has another benefit of particular importance to Leuven. Our city has many pavements and alleyways paved in mosaic or cobblestones. If cigarette ends get stuck in the gaps, it's very difficult to remove them with a broom or grippers. The Glutton®, however, simply sucks them up. This has direct benefits for the user. What's more, the public perception of our workers is enhanced when they are working with a Glutton® compared to an old-fashioned cart. Using the machine massively improves their image and that means a lot. They feel better when they have a Glutton® rather than a cart.