Braga, Portugal
"Glutton® forces us to think differently about cleaning and to be in the vanguard of what's being done all around the world."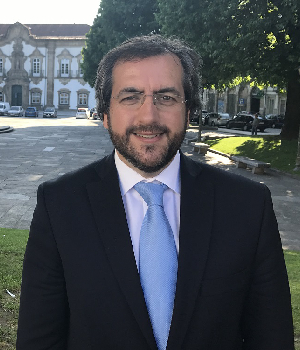 M. Morais
Executive Board Director
BRAGA, Portugal
About:
FACTS AND FIGURES
200,000 inhabitants

University town

Recent growth in tourism

So-called "Portuguese Rome"

Lots of popular events

Cobblestone streets
17 Glutton® machines in service
Interview
A few words about your department?
I'm the Executive Board Director for the company AGERE. This is a public company working for the city of Braga. AGERE takes care of water harvesting and distribution, sanitation, garbage collection and street cleaning. We thus manage the Glutton®. We have been taking care of all this in Braga for three years. The company employs close to 530 people, including about 100 people who take care of urban cleaning. The municipality is divided into freguesias, which are smaller administrative divisions. AGERE assumes the entire responsability for cleaning the six biggest ones.
What are the specificities of your city?
Braga has 200,000 inhabitants scattered in the city centre. It also has a great number of students, housing a major university. Moreover, due to Portugal's growth in tourism, Braga welcomes many tourists each year. The city is beginning to open itself to the outside world: we receive many more tourists, we have many cultural events, which attract many people.
The most popular events include: Roman Braga, São João, the White Night, concerts and also sports events such as the World Hill Climb Championship, the International Automobile Federation (FIA) World Championship. São João, for example, attracts almost 1 million visitors over 15 days…
What are your cleaning missions and challenges today?
Because we have a lot of tourists and these events often happen at night, it forces us to make a huge effort in terms of cleaning: we try to make it so that in the morning, when everybody wakes up, the city is absolutely spotless, as if nothing had happened the night before…
It forces us to think differently about cleaning, to find new ways to clean up and to be in the vanguard of what's being done around the world.
When did you discover Glutton® ?
We bought the Glutton® through our partner. We needed some new equipment and following that strategy, we discussed it with partners, who showed us the Glutton®. I had already seen the Glutton® in other Portuguese cities, in Belgium, in Turkey and in Spain... This equipment draws attention. People stop to take pictures. It creates the desire to go and see what that equipment is for... We liked it a lot for what it did. It looked interesting to replace the so-called traditional methods. The Glutton® is much more effective and efficient.
A few words about the use of the Glutton® in Braga?
Each machine covers around five kilometers of area. The operators changed their way of working. It forceed them to work in a different, more effective way... They can now cover a larger area, faster... There aren't so many stops in terms of having to unload the garbage, of putting it in a dustpan and then put it in a bucket and taking the time to sweep...
In Braga, many streets have very narrow sidewalks and are made of cobblestones, which makes it difficult to reach for the cigarettes butts in between. The Glutton® makes that job easier.
Nowadays, everybody nurtures the idea of a more efficient way of cleaning when it is associated to technology. AGERE is a company connected to all the environmental aspects of the city. To choose electric cars and equipment is almost an obligation...
What are the key advantages of Glutton® for the users and for the inhabitants?
The Glutton® is well seen by the population... It doesn't make any noise, creating less nuisance for the people. Moreover, the Glutton® helps in changing people's mentality : if we have very clean streets, the tendency to produce even less garbage is very big. It shows that the company is betting on a new technology, that also elevate the citizen's responsibilities. It also shows tourists that they are welcome. As for the operators, the Glutton® makes them prouder.